Communication
Communicating thoughts, feelings and ideas is a basic human need.  For those who don't communicate with words, it can be a much more difficult path to connection, belonging and living a full life.
Our approach is individualized and holistic, led by the wishes of each person supported. We challenge people to try new things, new methods and new activities in an effort to seek out new opportunities, relationships and enriching experiences.
We believe that everyone has the right to decide their own future, to make their own decisions, and to have all information given to them in their preferred mode of communication or language. 
When providing communication, a unique skillset is required to consider: the environment, pace, tone, and complexity of language to meet the processing time needs of the person. People with sensory loss need time to process communication and form their response. Our specialized support team is trained to guide this process as a communication partner.
Communication for People with Deafblindness
Because every person with deafblindness experiences a varying degree of sensory loss, each person will use their own unique and individual way to communicate. As a communication partner, the specialized support team may use as many methods of communication as needed to facilitate the exchange of information.
Methods of Communication:
Adapted American Sign Language (AASL)
Adapted Interactive Tactual Sign Language (AITSL)
American Sign Language (ASL)
Braille
Fingerspelling
Gestures
Langue des Signes Québéquoise (LSQ)
Large print notes
Oral
Print on Palm
Signing Exact English (SEE)
Tangible Symbols, including object cues and picture cues
Technology like iPads, speech generative devices, screen readers, etc.
Two-hand Manual
Others, as determined by the person.
This approach is not static: it should evolve and change to the person's communication need, development and/ or changes to vision, hearing and mobility.
Click here to read Tips for Communication with a Person Who is Deafblind.
Calendar Systems:
For individuals with deafblindness, calendar systems provide a concrete means of what is going to happen in the person's day. Calendars come in many forms. The selection of a specific type of calendar is based on the needs and abilities of each person.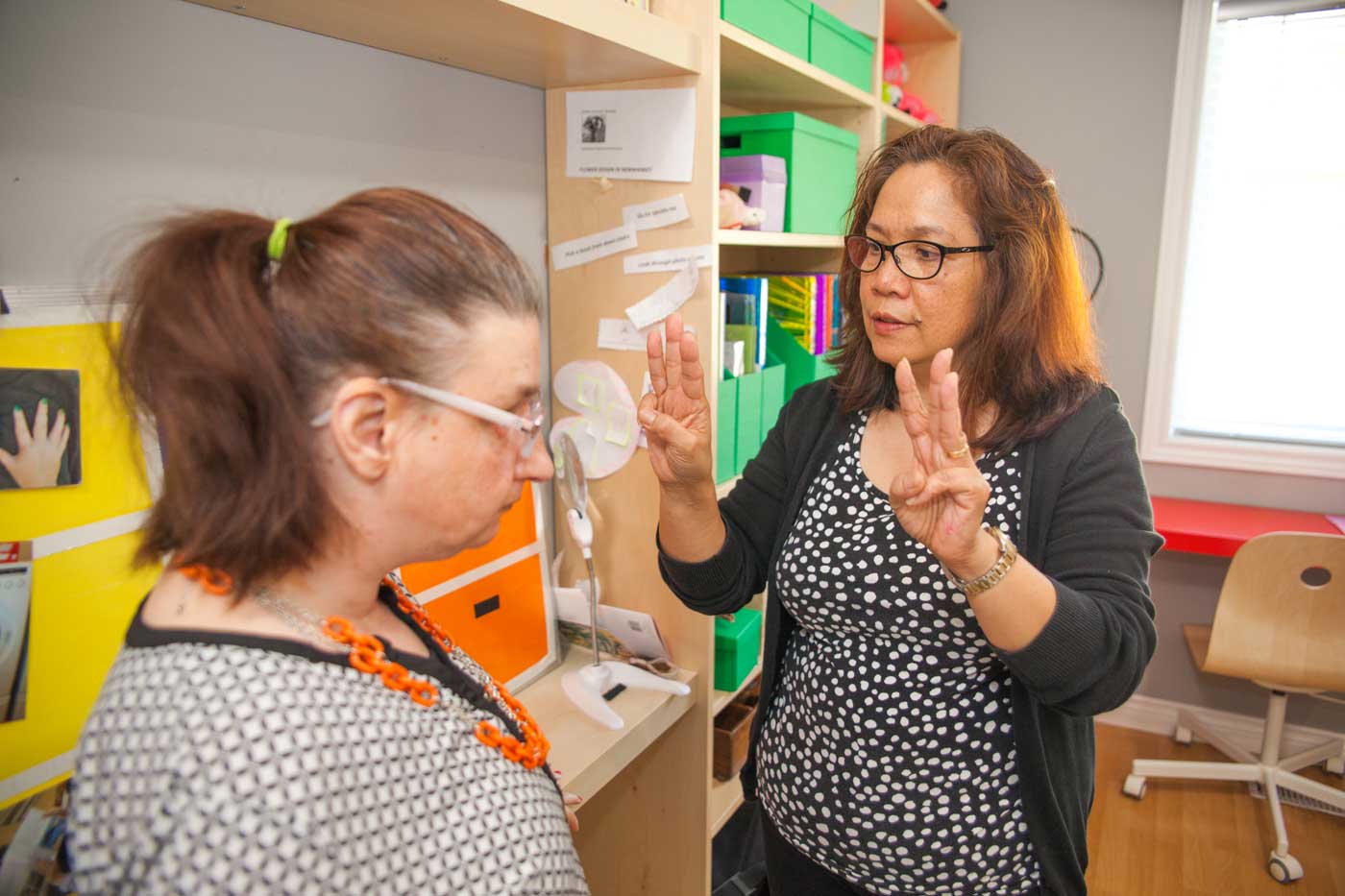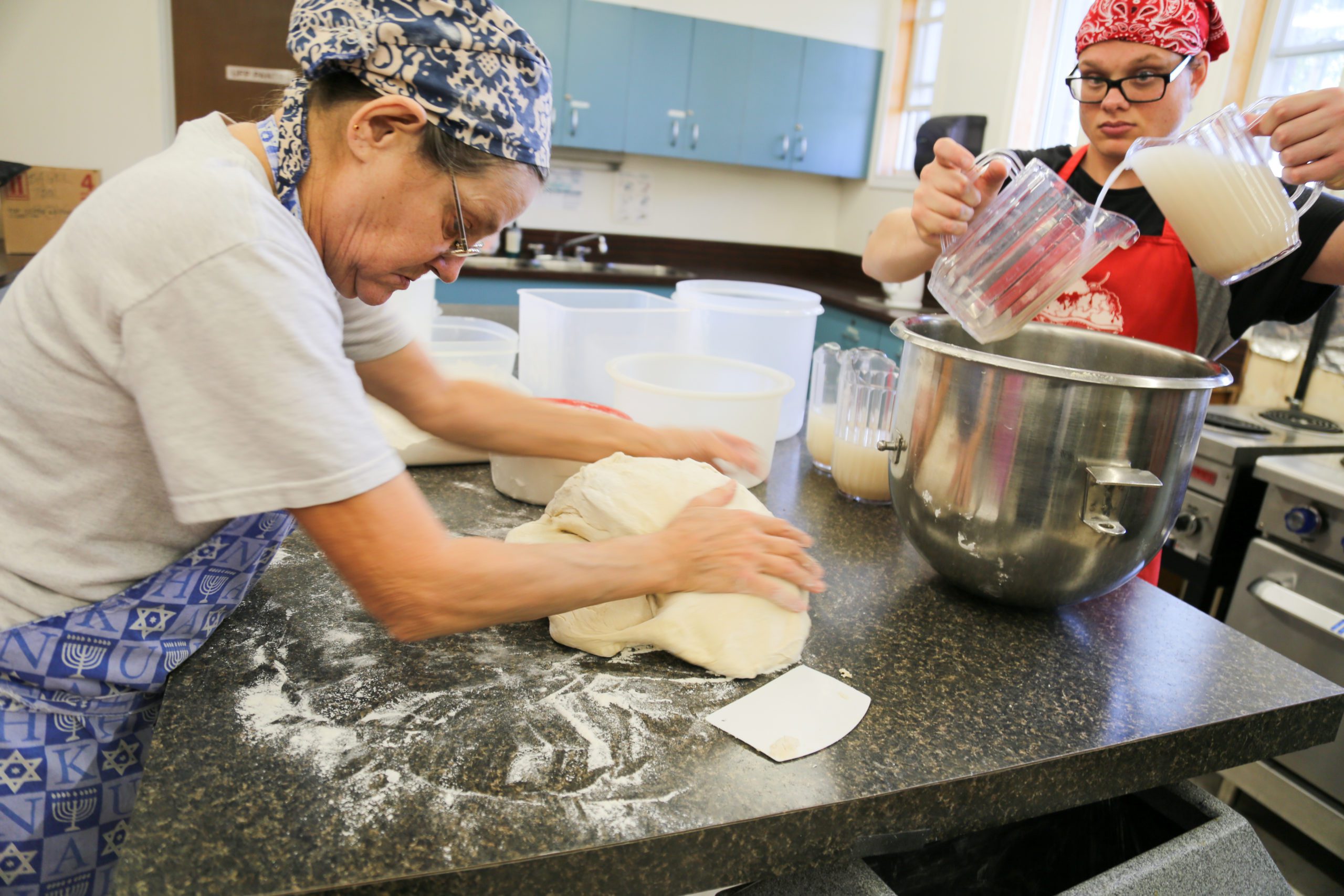 Communication for People who are Deaf
People who are Deaf may communicate through visual, auditory, or tactile methods. "Visual means of communication" include Sign language, lip reading, speech-reading, and reading and writing. "Auditory means of communication" include voice, hearing, and hearing aids and devices.
American Sign Language (ASL)
ASL is a visual language with the same linguistic properties as spoken languages, but different grammar than English. ASL is the predominant sign language used by Deaf communities in North America.
Deaf culture is a community of people who communicate using Sign Language, be it American Sign Language (ASL), Langue des signes Québécoise (LSQ) or any of the other variations of visual language. The culture is not defined by hearing loss, but rather of a shared experience of the world through the use of visual images in place of words. It is unique, diverse and rich in its history, heritage and experiences. Deaf culture is and the Deaf community are always identified with a capital D as it relates to the identity of a group of people.
What is an Interpreter?
An ASL interpreter is trained to translate between spoken English and ASL. Interpreters are for EVERYONE – they allow for effective communication between individuals who are Deaf or Hard of Hearing and the hearing population.
A Deaf Interpreter (DI) facilitates communication between a Deaf person, a hearing person and an ASL-English interpreter using their native language, ASL.  A Deaf Interpreter may also facilitate communication between two signed languages.
Our specialized support team working with people who are Deaf, hard of hearing or non-verbal also understand how and when to use and access the services of an American Sign Language (ASL) Interpreter and a Deaf Interpreter (DI).
Click here to read Tips for Using an Interpreter.