Christie's Story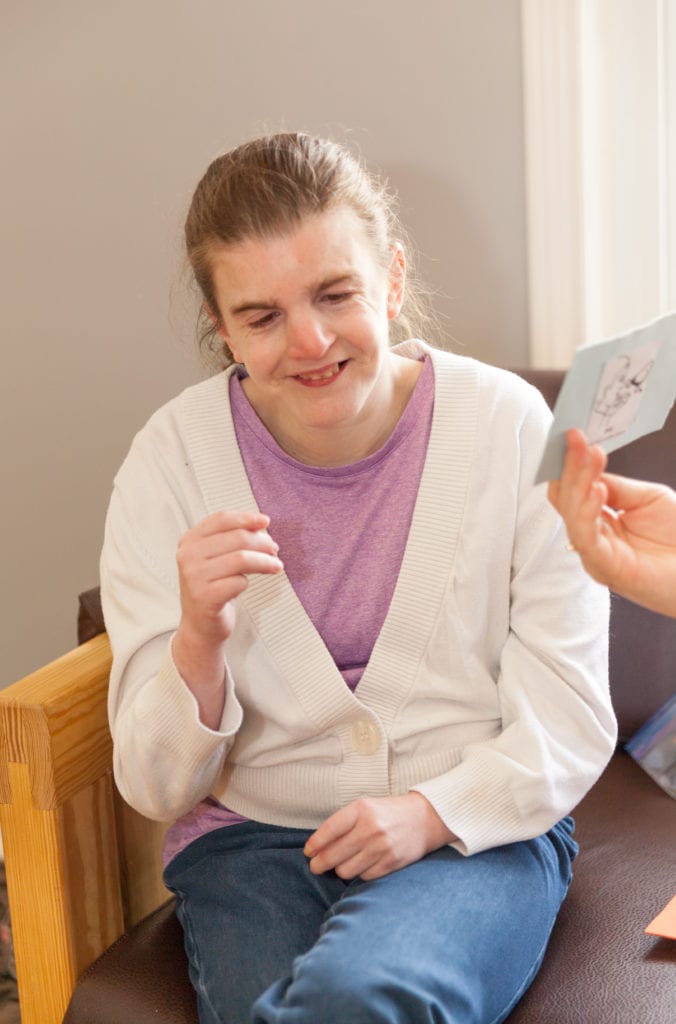 Meet Christie, a funny and friendly young woman who enjoys volunteering in her community, spending time outdoors and her favorite activity, swimming! Diagnosed at a young age with Cornelia de Lange syndrome – a genetic disorder present from birth that causes low vision and hearing – Christie is deafblind.
As a young girl, Christie attended a school for students who are visually impaired, blind or deafblind and graduated in the summer of 2008.
As a new graduate, Christie and her family were excited to take the next steps in life, and were looking for specialized support to help them achieve an independent lifestyle for Christie. In 2008, Christie's life was forever changed when she joined DeafBlind Ontario Services.
Initially, Christie started receiving Intervenor Services in Bancroft through DeafBlind Ontario Services' Partnerships program. This provided her with access to professionally trained intervenors, who supported the development of her communication skills and assisted Christie in being an active participant in her community.
In early 2009, DeafBlind Ontario Services opened a new location in Peterborough. This provided Christie with the opportunity to move into a new home; fit for her unique needs.
Through specialized support from DeafBlind Ontario Services, Christie began to hone her preferred methods of communication, Signing Exact English (SEE) and American Sign Language (ASL). With the support of her intervenors, Christie also volunteers in the community.
Christie has learned to use a daily pictorial calendar system to help plan her daily activities and to communicate her choices. Often, Christie can be found with her swimming cue – a photo of herself in a swimming pool – in hand while signing 'swimming' to her intervenors.
Over the years, Christie has become more independent with her choices, has a greater drive to communicate and has learned how to better articulate and express her ideas.
Impact on Families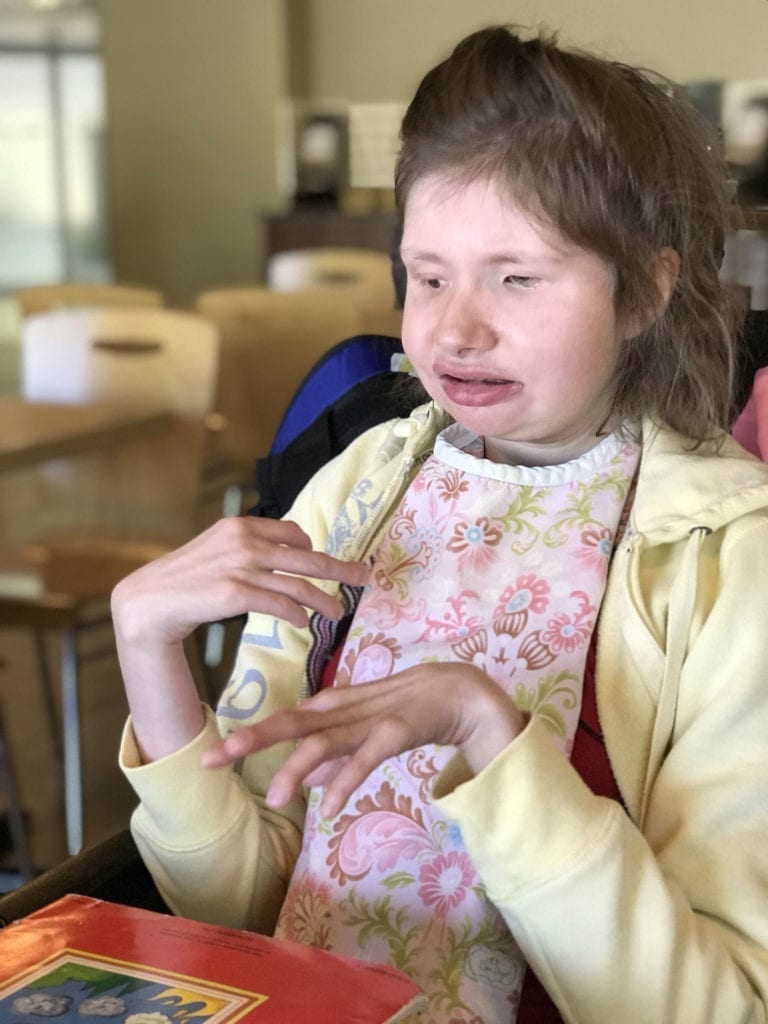 Any story on professional caregiving will naturally focus on the individual receiving services and supports, but the family – the other caregivers – should not be overlooked. The impact on them is equally meaningful, and for many, the additional support can "give them back their lives."
So said Ray and Nicole Coutu of Sudbury, whose daughter Maryse has been receiving services through DeafBlind Ontario Services for a little over a year.
Maryse is congenitally deafblind, and aside from some hearing, and minimal vision in one eye, she also has multiple developmental issues. Which means that her parents have been responsible for everything from getting her dressed, to personal care, to feeding.
A person with deafblindness experiences a combined loss of vision and hearing that impacts their access to information, communication and mobility.
Maryse participated in a school program – where she received Intervenor Services. An intervenor serves as the eyes and ears of an individual with deafblindness. They work with an individual, helping them learn through experience, empowering them to make informed decisions and be active participants in all areas of their lives. Unfortunately, after age 21 she had to move to a day program that was unable to match that level of stimulation and one-on-one attention.
"During those years, Maryse's ability to do certain things went downhill," said Nicole, adding that she could previously walk with a walker, and leaf through books on her own.
"Since coming to DeafBlind Ontario Services, Maryse has just blossomed," Nicole continued. "She's back to her old self. The interest, the gleam in her eye. She's happy."
Maryse is now using a 'stander' to help her gain stability and confidence, with the goal of reintroducing the walker. DeafBlind Ontario Services includes her entire family in the process of goalsetting – which involves increasing her mobility, and introducing her to use of a computer to augment her communication.
"With this new service, we are in shock because Nicole and I can finally go out together," said Ray. "The first time in 28 years as a couple."
He noted that they have two other daughters and two granddaughters. "This has allowed us to spend more time with them. We were able to go on a vacation together, and trust that Maryse was well looked after."
Nicole explained how intervenors make an effort to create enriched experiences and connect her to the world around her, like hanging up a sheet outside for Maryse to watch Grease at her own "drive-in" theatre. "And they bring her out into the community to eat in a food court – to be out with other people."
But she reiterates that it's in their family's daily routine where DeafBlind Ontario Services has made the greatest difference, restoring some normality.
"You have no idea. Just being able to go grocery shopping with your significant other – things people take for granted – is such a treat."