Intervenors make a critical difference in the life of a person who is deafblind.
Those who move into a career in Intervenor Services can draw on their skills and experience from other sectors working with individuals who are living with a disability, or with backgrounds as Developmental Services Worker, Social Services Worker, Community Services Worker, Personal Support Worker or related field.
Given the unique needs of individuals with deafblindness, DeafBlind Ontario Services offers comprehensive training for new employees, as well as ongoing and continuous professional development.
DeafBlind Ontario Services was the first Ontario organization providing Intervenor Services to be accredited in 2012, and the first to be reaccredited in 2016. DeafBlind Ontario Services is also a Canadian Nonprofit Employer of Choice (2015 and 2016). The Nonprofit Employer of Choice Awards (NEOC) recognizes organizations whose people leadership and vision has translated into exemplary talent management practices.
We offer a competitive hourly wage, wellness program, RRSP program, employee assistance program and more!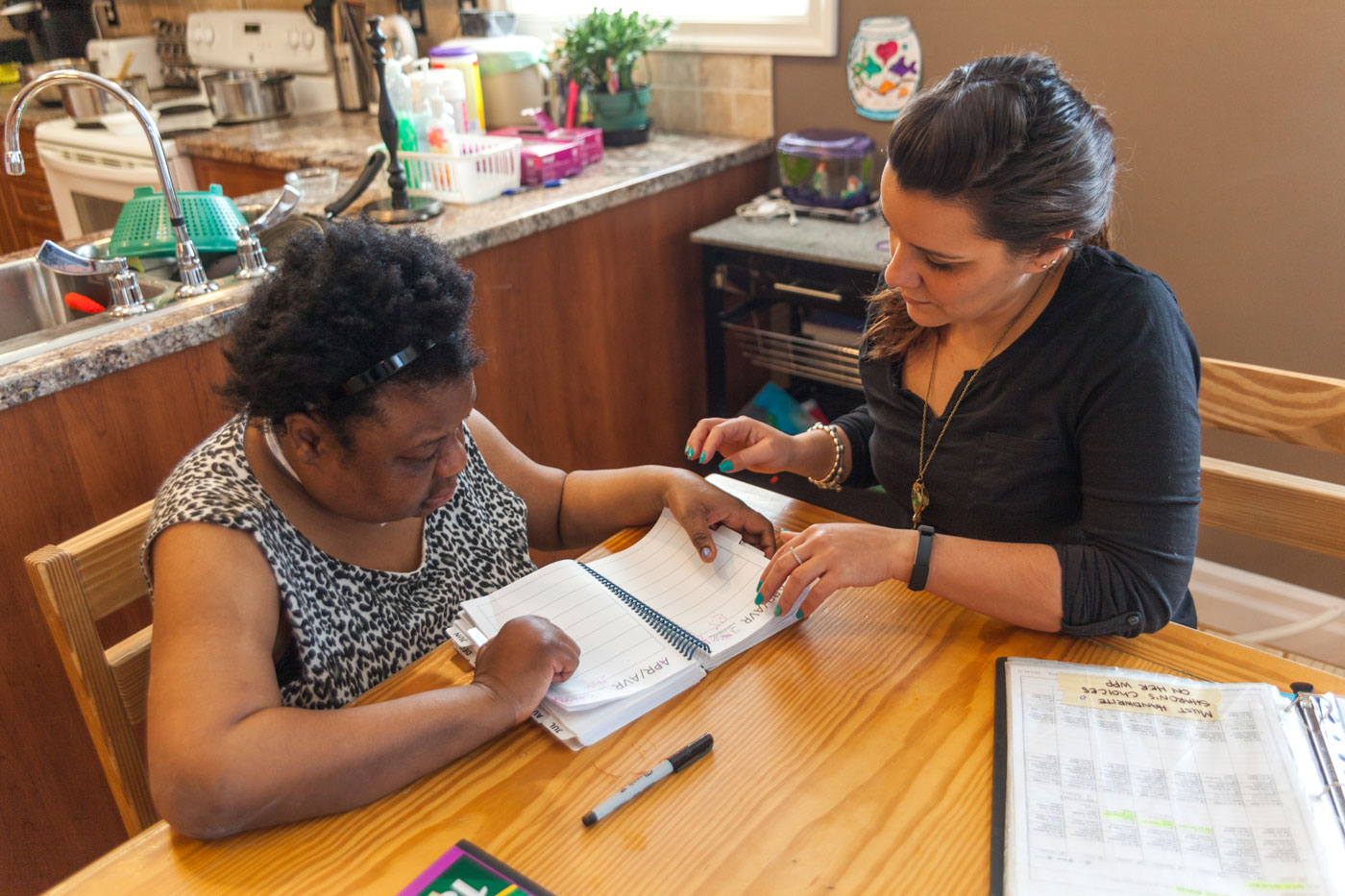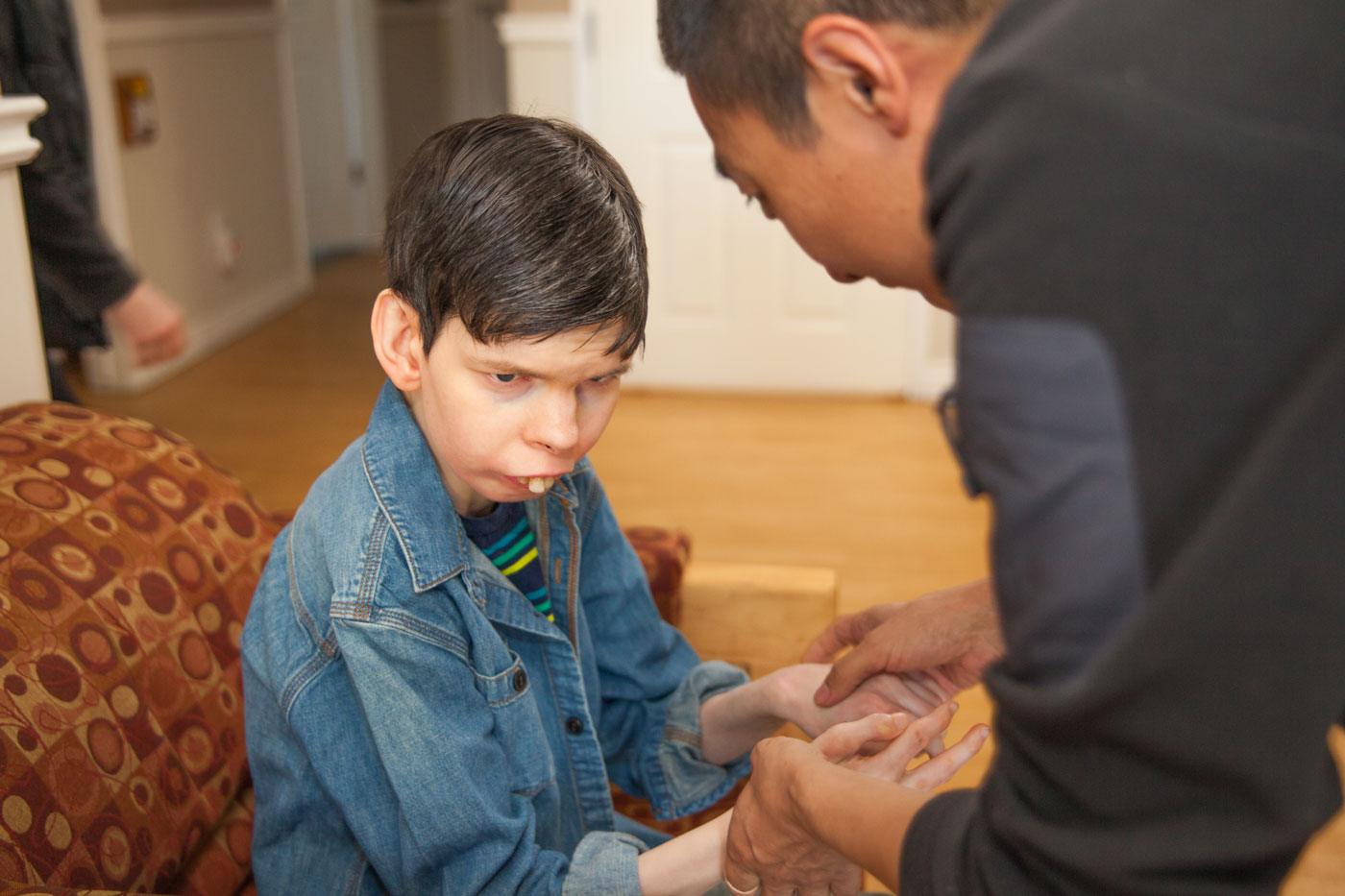 Employee Testimonials
Jennifer, Intervenor
"The staff are wonderful. Everyone is so helpful and happy which shows that the organization really cares about their employees. Plus the amount of training is amazing… It's been 10 years since I've been a 'new' employee, so that's been very helpful. It's nice to be happy to go to work again!"
Judy, Intervenor
"After relocating to London after a five-year military posting, I applied to DeafBlind Ontario Services in 2006, where I have worked [as an Intervenor] ever since.
Over the past 10 years, I have been given the opportunity to share sensory experiences, Community Services – Sensory Exploration Arts (SEATM) classes, help move to a new residential location, as well as share holidays and special occasions. I even accompanied a client on a Sensory Excursion. As a result, in my personal life, I am constantly on the look-out for ways to assist the clients or introduce them to something new (by relating to something they've already experienced).
I can't describe how rewarding it is to see the sign of recognition or understanding in a person I'm supporting, indicating that we have made a connection. This is what has kept me working in this field, so much so that at times I can't believe that I am actually getting paid for what I do!"
Holly, Intervenor
"Welcome to the best job you will ever have", said Holly Pflanzer, when asked what she would tell those considering a career as an intervenor.
Holly has worked as an intervenor at DeafBlind Ontario Services ever since graduating from the Developmental Services Worker (DSW) program at Loyalist College four years ago.
Holly was inspired to work in the developmental services field when a friend with Cerebral Palsy commended her in high school. As their friendship grew, so did Holly's caregiving skills. "My friend really appreciated all of my support and suggested I work with individuals with disabilities as a career. If it wasn't for this friend, I don't know where I would be right now", said Holly.
"I did not know Signing Exact English (SEE) when I first started my career. However, specialized training is a priority at DeafBlind Ontario Services. I utilized many of the organization's resources and worksheets about sign language and also asked my colleagues to quiz me too. After a few months on the job, I was extremely excited to take DeafBlind Ontario Services' TOUCH™ training program. This training was an awesome opportunity for professional development and really strengthened my signing skills. Building on this training, intervenors at DeafBlind Ontario Services can work towards becoming designated as Certified Congenital DeafBlind Specialists (CCDBS). I am designated in both levels.
In my role, I get to positively impact the lives of people who are deafblind everyday. I have learned so much from these individuals and created amazing bonds".