Residential Services
Since our beginning in 1989, we have made it our mission to inspire the spirit and determination of the people we support. With programs across the province, our reach extends into a wide range of communities in Ontario. Locations map
DeafBlind Ontario Services takes a holistic approach to providing Intervenor Services that are customized to each individual's unique needs, method of communication, and goals to increase their independence and enrich their life. Residential programs provide accessible, barrier-free, affordable housing and access to Intervenor Services 24/7.
Together, we make a difference everyday for individuals who are deafblind.
Success Story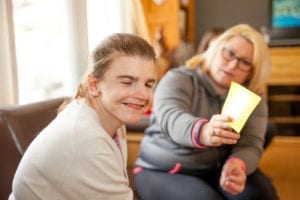 Meet Christie, a funny and friendly young woman who enjoys volunteering in her community, spending time outdoors and her favorite activity, swimming! Diagnosed at a young age with Cornelia de Lange syndrome – a genetic disorder present from birth that causes low vision and hearing – Christie is deafblind.
As a young girl, Christie attended a school for students who are visually impaired, blind or deafblind and graduated in the summer of 2008.
As a new graduate, Christie and her family were excited to take the next steps in life, and were looking for specialized support to help them achieve an independent lifestyle for Christie.
DeafBlind Ontario Services was able to help Christie and her family achieve their goal and in October 2008, Christie first joined DeafBlind Ontario Services as a client through the Community Services – Partnerships program.
Through Community Services – Partnerships, Christie received intervenor services from her home in Bancroft where she was living with her parents; this offered her the opportunity to have access to trained intervenors who could support the development of communication skills and assist Christie in being an active participant in her community.
In February 2009, DeafBlind Ontario Services opened a new residential location in Peterborough. Living in this home offered the social aspect of friendly roommates, a backyard to enjoy and more room to grow. Christie moved out of her apartment and was the first to move into the new residential location – Earlwood. Shortly after, two roommates moved in to Earlwood with Christie, both of whom she knew from her school days.
Through the specialized support from DeafBlind Ontario Services, Christie began to hone her preferred methods of communication, Sign Exact English (SEE) and American Sign Language (ASL). Christie has become more independent with her choices, has a greater drive to communicate and has learned how to better articulate and express her ideas. Christie enjoyed her new adventure of living independently.
Christie has learned to use a daily pictorial calendar system to help plan her daily activities and to communicate her choices.
Christie has enjoyed building herself a home at Earlwood with her roommates, and has been able to enjoy new experiences she might have been reluctant to try before. Often, Christie can be found with her swimming cue in hand while signing 'swimming' to her intervenors as she looks forward to her favorite activity.
Over the years, Christie has accomplished a great deal including broadening her communication skills and becoming more involved in her community.
DeafBlind Ontario Services is proud to assist people like Christie by providing them the tools and support needed to reach their fullest potential.