Communication
Communicating thoughts, feelings and ideas is a basic human need.  For those who don't communicate with words, it can be a much more difficult path to connection, belonging and living a full life.
Our approach is individualized and holistic, led by the wishes of each person supported. We challenge people to try new things, new methods and new activities in an effort to seek out new opportunities, relationships and enriching experiences.
We believe that everyone has the right to decide their own future, to make their own decisions, and to have all information given to them in their preferred mode of communication. 
Calendar Systems
For individuals with deafblindness, calendar systems provide a concrete means of what is going to happen in the person's day. Calendars come in many forms. The selection of a specific type of calendar is based on the needs and abilities of each person. They may be as simple as a single basket containing an object that represents "What I am going to do now." They may have a series of compartments that contain objects, parts of objects, photographs, line drawings or tactile symbols representing the activities of the day. Some calendars include a symbol for choice-making that allows the person to select a favourite activity. Others may look very much like regular calendars consisting of months, days and dates with information in large print or Braille.
Cues
Concrete, tactile, pictorial or physical cues are all part of the Total Communication Approach (TCA). Cues are used in conjunction with speech, sign and gestures and can be used with calendar systems to represent activities or a person.
Concrete Cues are representative objects of an activity or person that the individual with deafblindness is involved with. For example, a cup represents a drink or snack time, a book represents the Library, a ball represents exercise, an instrument represents music, a silk scarf represents their mother, etc.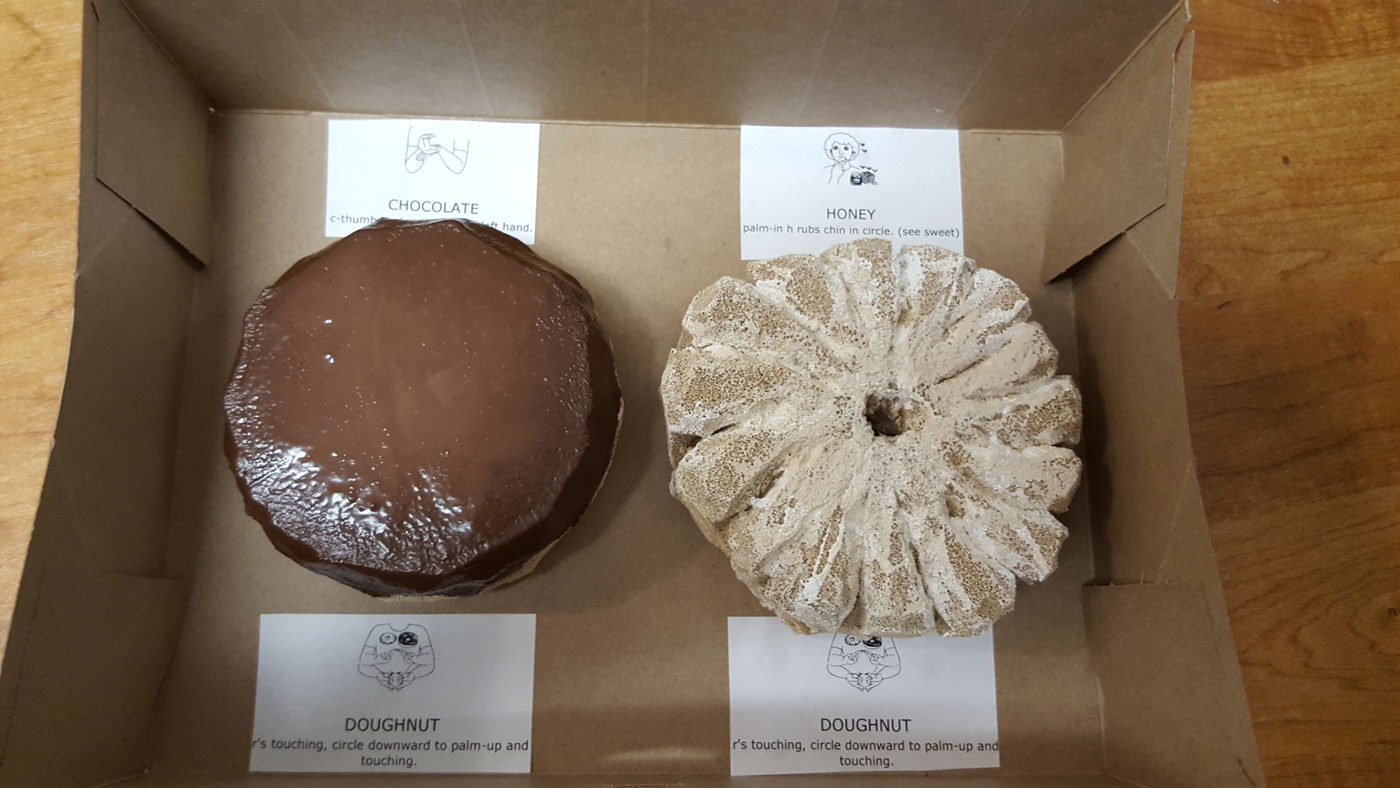 Concrete cues representing donuts
Tactile Cues are used with individuals with very limited to no vision. These cues are often representative of the texture of a specific place or person. Olfactory (Scent) Cues can also represent a certain activity or person, and are especially great to use with someone with limited to no vision. Examples include: scent of lavender represents a massage, as lavender scented oil is used during each massage appointment; whilea coffee cup with coffee grounds lining the inside represents coffee or going out for coffee.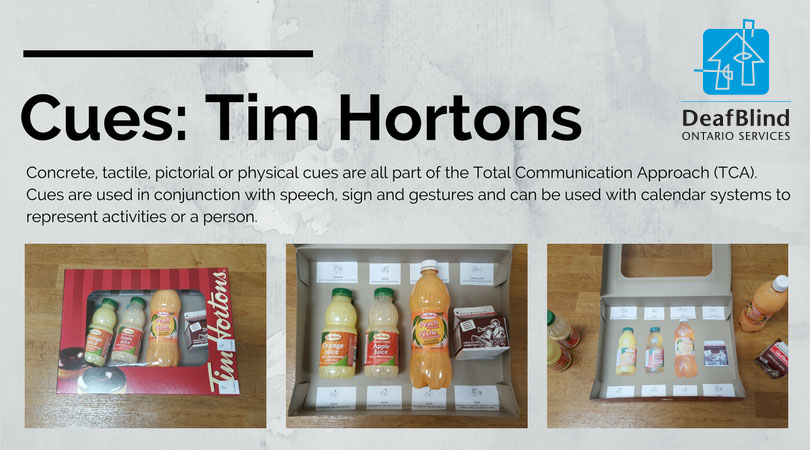 Cues represent activities or a person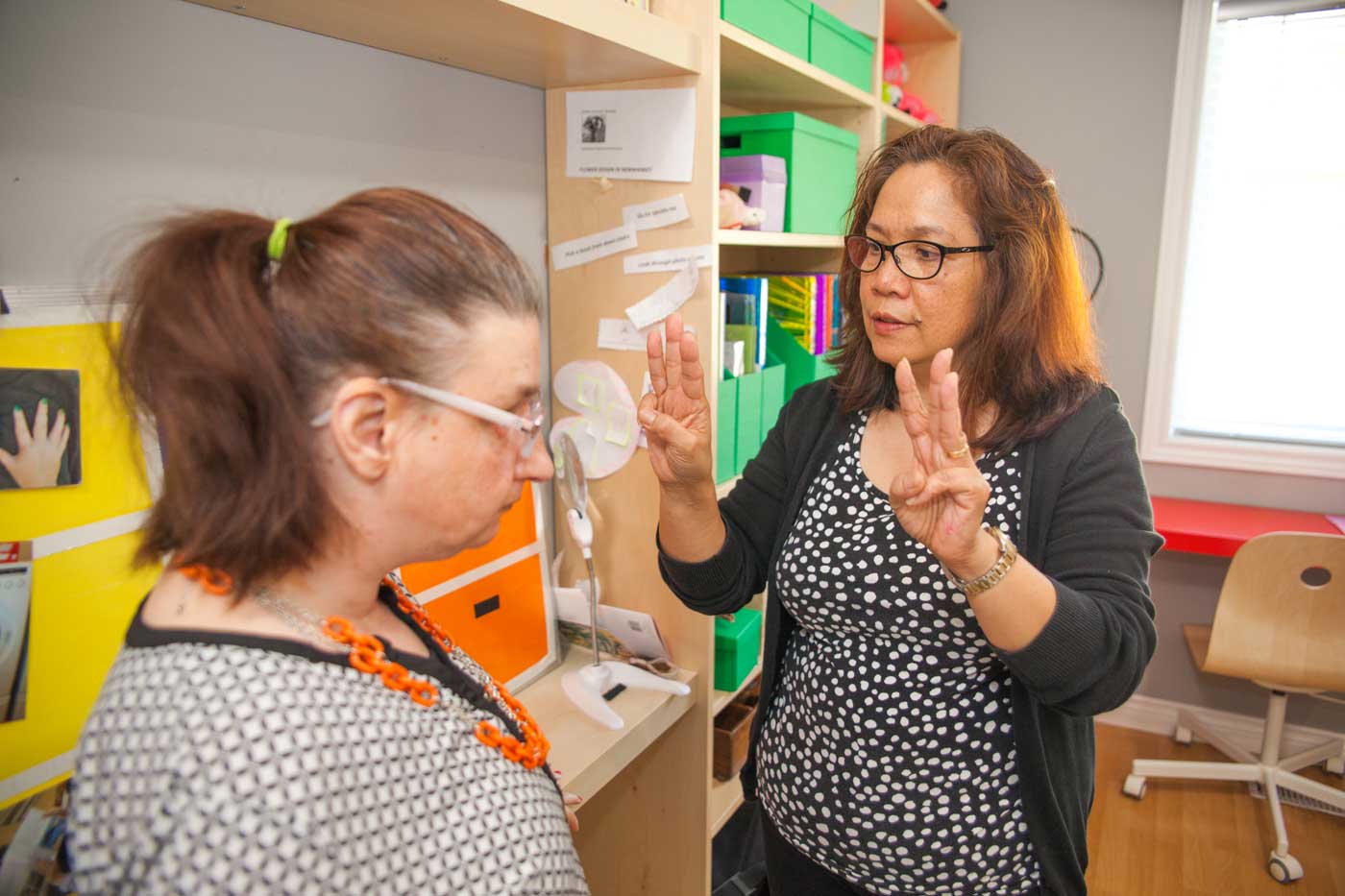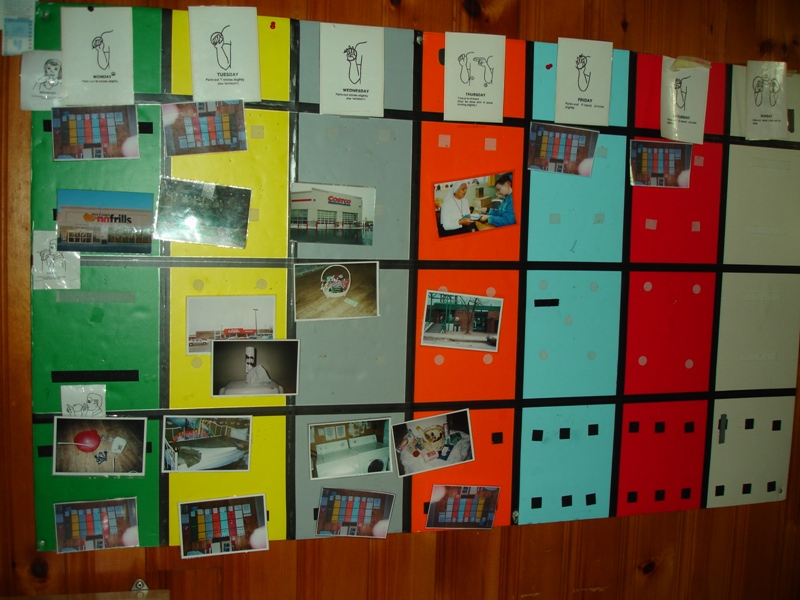 Pictorial Cues
Pictorial Cues can be magazine pictures, photographs, picture communication symbols, or drawings. These are used with individuals with some residual vision.
Experience Tools
A storybook, tactile memory, experience tool, memory book, scrapbook and journal are all different ways to describe the same idea – a trace of some of the very important experiences and activities individuals with deafblindness may participate in. Since people with deafblindness have a unique learning style, Experience Tools are an excellent resource that can be tailored to their unique needs. They can be created in a variety of ways including: tactile for individuals with little to no vision, colourful for individuals with sight or using auditory components for an individual with deafblindness that has some functional hearing. Scents also have a powerful impact for individuals with deafblindness and can easily trigger memories.
What is an Experience Tool?
A collection of items and steps directly related to an experience the person has had and/or will participate in. They are used to reflect on, initiate conversation, enhance the learning of concepts such as time, promote expressive and receptive language, anticipate events (such as routines), be engaged, make choices and be informed. They also provide hands on experience to the meaning of language which allows the individual to learn in a concrete manner.
Deaf Culture
Over 1.3 million or 5% of Canadians aged 15 years and over have a hearing disability. In Ontario, 563, 350 or 4.19% people aged 15 years and over have hearing disabilities.
Deaf culture is a community of people who communicate using Sign Language, be it American Sign Language (ASL), Langue des signes Québécoise (LSQ) or any of the other variations of visual language.  The culture is not defined by hearing loss, but rather of a shared experience of the world through the use of visual images in place of words.  It is unique, diverse and rich in its history, heritage and experiences.
American Sign Language (ASL) helps to illustrate that history and experience in a way that spoken words simply cannot.  Deaf culture is a way of life and learned ways of acting, feeling and thinking based on a group who share common language, beliefs, values and identity.  For many of those who are Deaf, the culture isn't so much inherited from birth as it is absorbed and adopted later in life, as people are exposed to more of the Deaf community at large.  Deaf culture is and the Deaf community are always identified with a capital D as it relates to the identity of a group of people.